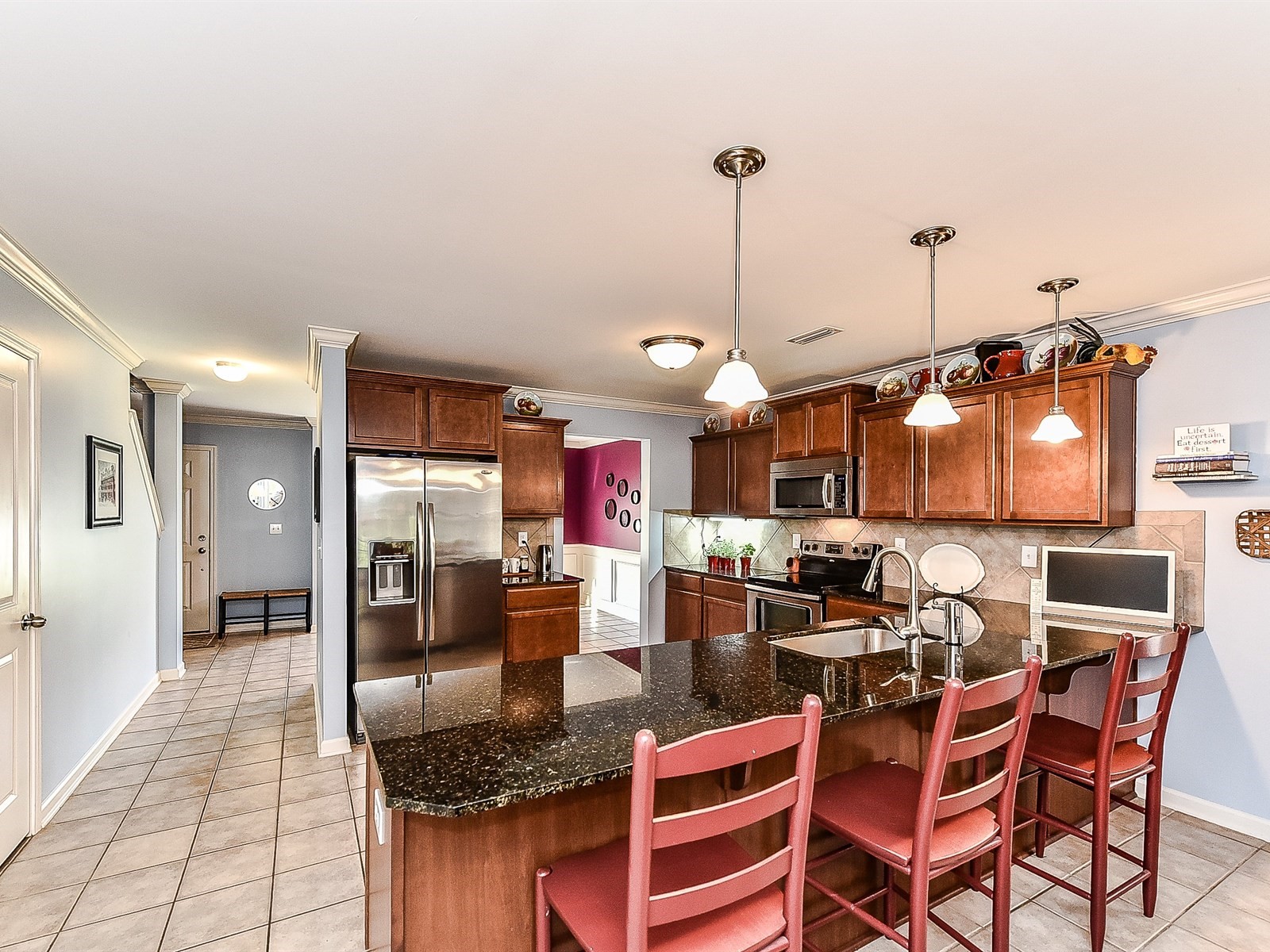 Welcome home to 121 Collenton Lane, Mooresville, NC 28115!
To view the virtual tour of this home, click here.
For more information on 121 Collenton Lane, Mooresville, click here.
Rare Find- Full Master Suite Down AND Full Master Suite Upstairs! Unique floor-plan offers flexible living w/4br, 3.5ba & upstairs loft. Move in ready w/tile floors, granite, spa-like baths, gas fp, upg trim & built in desk. Meticulously maintained Energy Star home was built w/many convenient details: built-in gas grill line, additional wiring, service door in garage & more. Enjoy the best of nature from screened porch w/wooded views & sounds of quiet stream in back. Walk to shopping- A Must See!
The Things We Have Most Enjoyed about Living Here Are:
Hands down the screen porch is my favorite thing about this house and living here. I have spent countless hours relaxing on the porch with a book in hand; watching the birds fly from branch to branch and usually falling asleep from the tranquility of it all. The property backs up to common area. From spring to fall is provides a beautiful back drop to this house. There is a little creek that runs through it and provides a soothing symphony of sound with the trickling water, croaking frogs and bird song.

We Enjoyed This Particular Floor-plan Because:
I love the openness of the floor-plan. There is plenty of room when you have a full house, but you never feel like you are in each others way. There is plenty of room for everyone. We love to cook. In this house the kitchen is the command center.
You can keep an eye on the whole family from here. If you are entertaining, you never feel like you are ignoring your guests when you need to go into the kitchen. Plus there is plenty of storage between the over sized closets and extra cabinet space with the built in desk, it makes it very easy to keep things organized.
What Our Neighbors Are Like:
The development is great for walking. It connects with Harris Village to give you extra distance but keeps you safely off the main road. Being on route 3 provides easy access to get anywhere and everywhere. Along with convenience of having a grocery store in walking distance. The town of Mooresville picks everything up at the curb including trash, recycling, yard debris and junk, making it convenient to not have to take a trip to the transfer station. The house is wired for cable in every room, except the dining room. The kitchen/ great room have 3 cable outlets. There is even one in the laundry room, which makes a great center hub for all of your connectivity needs. Having your router and WiFi in the laundry room provides connectivity to the entire house and outdoors. In the lower cabinets in tl1e kitchen there are pull out drawers that help keep all kitchen wares neatly organized and easily accessible. The built in grill behind the garage is connected to the natural gas line, so no more propane tanks. The service door in the garage provides easy access to the recycling and garbage bins, keeping them out of site from the front of the house.
Interior Property Features:
Open Floor-Plan
Abundance of Storage
Natural Gas Fire Place
Castle Cabinets
Granite Countertops
First Floor Laundry
Second Floor Utility Room
Built in Desk with Cabinets
Exterior Features:
Low Maintenance Yard
Screened Porch
Insulated Garage
Garage Service Door
Leaf Solution No Clog Gutter Guards